My Brother and I after hunting elk in Colorado (DIY) for more than 18 years (with considerable success) decided to go on an outfitted, guided elk hunt in Montana. Our adventure started 2 years earlier with first trying to choose where to go and with whom. After many hours of internet research, google earth map viewing we decided that we would go somewhere near the Yellowstone National Park. We narrowed our search for an Outfitter to 3 candidates and started making phone calls. When I called and talked to Josh with Sage Peak Outfitters, I immediately called my brother and told him that I had found the outfitter for our adventure into the Montana back country. The folks at SPO were very helpful in answering all our questions, from what kind of hunt we were interested in going on to how to apply for our Licenses and tags.
What can I say about the SPO hunting experience, WOW!!! Hunting with SPO was an experience of a lifetime. We enjoyed beautiful Montana back country, great food, great accommodations, and wonderful fellowship with some extraordinary people. There were early mornings, starting with a hearty breakfast, followed by a wonderful horseback ride into some of the best Elk habitat Montana has to offer. There were lots of bugling bulls within a short ride of the Camp. We spent every day from before daylight to after dark in pursuit of ELK! Each day ended with great fellowship and conversation over a wonderful meal.  SPO has some of the most experienced guides in the business. All our guides worked very hard to put each of us in a position to fill our tags. The guides were very familiar with the elk and where to find them in the areas we hunted.
For my brother and me, this particular time spent in elk Camp in the Montana wilderness will be one of our most memorable. The folks at SPO met and exceeded our expectations. The people and the memories will stay with us forever. Elk Camp has always been very special to my brother and me, it is something we look forward to every year. We would like to say a big THANK YOU!! to "SPO" for making it another wonderful experience for us. Not to mention that I was able to take my personal best Bull (345 pope and young) with a bow.
-Tony Chance of Victoria, Texas & Tim Chance of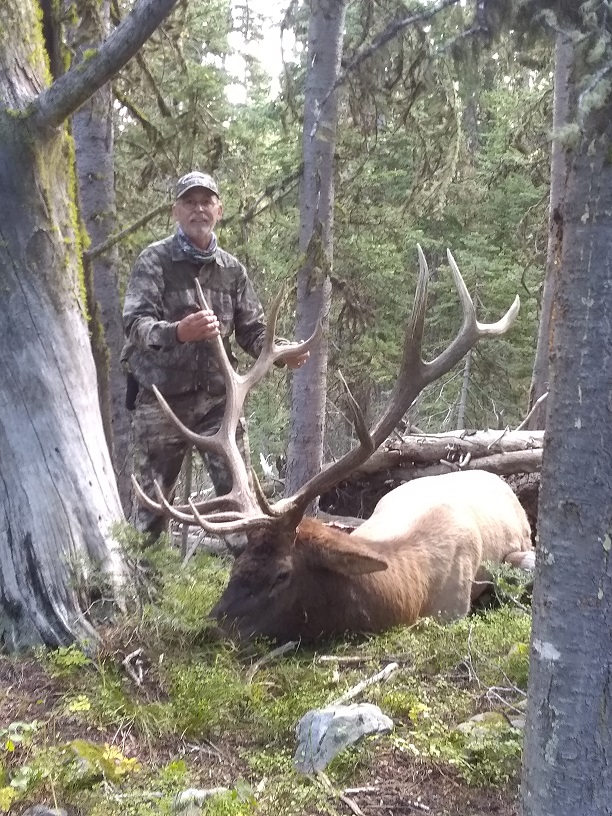 Florien, Louisiana