Sage Peak Outfitters are honest, reputable Elk Hunting Outfitters in Montana who specialize in successful, memorable, fair chase Montana Elk Hunts, Guided Mule Deer Hunts, and Antelope in Montana hunts for those with a passion for Big Game Hunting Animals. We offer Private Land Elk Hunting and Wilderness Hunting. We are passionate about Elk Bowhunting, and each Montana Hunting Guide we provide are the most dependable in the business.
While our historic wilderness camp offers the comforts of home and is ideally situated in some of the best Elk Habitat in Montana, it provides Outdoorsmen with a memorable MT Hunt and the authentic feeling of how life was experienced over a century ago for mountain men and women in the old west. This area includes resident herds and is a major Elk Migration route from Yellowstone National Park. Weekly bookings are limited to small, personal groups of no more than 5-6 elk hunters per week. To ensure personal attention to each hunter, we provide a guide for each hunting client. That's your own personal Montana Hunting Guide furnished by trustworthy Backcountry Outfitters!
As Sage Peak Elk Hunting Outfitters in Montana grows to incorporate prime Private Land Elk Hunting into its Guided Elk Hunting services, we proudly offer Trophy Whitetail Hunts, a Trophy Mule Deer Hunt Montana, Trophy Elk hunts, and Montana Antelope Hunting. This is a premier Hunting Land Lease exclusive to only a few select hunters per year! We are dedicated to offering the personal, quality hunting service to which our hunting clients have grown accustomed over the years.
Sage Peak Outfitters is one of the most trusted Elk Hunting Outfitters in Montana. Our professional Elk Hunting Guides are knowledgeable, passionate, and experienced when it comes to Hunting in Montana. Since we book only small groups, our guarantee is that each booked hunter will receive the personal attention that he or she deserves. We have the knowledge and expertise to answer any questions about Big Game Hunting Animals, and we will assist you with information about Montana Elk Hunting Regulations, help you obtain a Montana Hunting License and teach you about the most useful Elk Hunting Strategies. In addition to providing personal attention from Elk Hunting Guides, our Elk Hunting Trips include three hearty meals per day, comfortable accommodations, and a Gear List for Elk Hunting. Whether you're interested in Bow Hunting Elk, Wilderness Hunting, Private Land Elk Hunting, Montana Antelope Hunting, Hunting Montana Mule Deer, or Montana Whitetail Hunting, our dependable Elk Hunting Guides can provide you with the trip of a lifetime!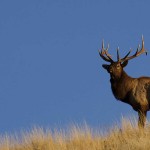 Now that you're familiar with our guides, browse the site to find out more about the other services we provide. As Elk Hunting Outfitters in Montana, we are committed to providing our clients with the best Private Land Elk Hunting and Wilderness H...
We are delighted to have this opportunity to welcome you to Sage Peak Outfitters and share its incredible wealth of history with you! Having worked with the previous owners Kurt and Melissa Puckett for years, it is an honor to take over the reins of Sage...