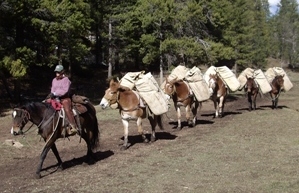 As Elk Hunting Outfitters in Montana, not only do we depend on the land to make our living, but we respect it and realize the importance of preserving it for future generations. Whether we are guiding Montana Elk Hunts, Hunting Montana Antelope, Whitetail Hunting Western Montana, or Montana Mule Deer Hunting, we always do our part to preserve the environment in every way possible. Kurt Puckett, owner of Sage Peak Outfitters, is a certified Stock Master with Leave No Trace, a nonprofit organization which strives to lessen the impact of people's activities on the environment. Though Sage Peak Outfitters takes every possible measure to reduce its environmental impact, Kurt has received special training when camping with horses and mules. His status as a Stock Master ensures that the pack animals he uses to transport himself, his fellow Elk Hunting Guides, and Hunting in Montana clients through the wilderness will have a minimal effect on the environment.
Though utilizing horses and mules to transport clients during Private Land Elk Hunting trips and Wilderness Hunts is certainly less stressful on the environment than the use of motorized vehicles, large animals like horses and mules can also have a noticeable impact on the environment. When left in one place for long periods of time or lead in a single file line across the same path time and again, these large animals can have an irreversible effect on the ground, scarring it and making it difficult for vegetation to grow. When pack strings are made to follow the same route frequently or left to stand and feed in the same area, natural areas are destroyed and replaced with new—and unnecessary—trails and campsites. To avoid the creation of unnecessary campsites and trails, and thus lessen the impact of Montana Elk Hunting Trips on the environment, our Elk Hunting Guides know the importance of staying on established campsites and trails, or to camp out in unspoiled areas that are less likely to be impacted by the presence of large animals, like rocky areas or other places with little vegetation. When not sticking to already established campsites, it is wise to move each night so as not to create a lasting impact on the area.  And so it goes, Sage Peak Outfitters' livestock is managed in such a way.
In addition to practicing Leave No Trace Ethics with horses and mules, Sage Peak Outftitters uses the same principles when in Hunting Camp.  The ground beneath the wall tents are covered with mesh flooring allowing light to penetrate, water to soak through and dry, and grass to grow.  It is also quite easy to keep clean.
These are just a few of the ways that we attempt to reduce our impact on the environment. As a certified Stock Master, Kurt's Leave No Trace Training and his commitment to Leave No Trace Principles means that those who book Big Game Hunting in Montana Trips with these honest Elk Hunting Outfitters in Montana can rest assured knowing that their activities will have as little impact on the environment as possible. Our commitment to the environment is rivaled only by our dedication to our clients. When you book Montana Elk Hunting Trips with us, not only will you have the peace of mind that comes with knowing that you are preserving the environment, but you will learn effective Elk Hunting Strategies from our experienced Elk Hunting Guides and enjoy comfortable accommodations and delicious homemade meals. For years, we have been one of the most trusted Elk Hunting Outfitters in Montana, providing our clients with Archery Elk Hunts, Antelope Montana Hunts, Whitetail Hunting Western Montana, Montana Mule Deer Hunting, Wilderness Hunts, and Private Land Elk Hunting. To learn more about the services we offer, browse our site or contact us today!