Montana elk hunting outfitters serve a vital role, one that can't be replaced. Even the most avid and skilled hunter can benefit from the assistance of a guide. That's where Sage Peak Outfitters comes into play. We offer the finest Montana hunting trips around.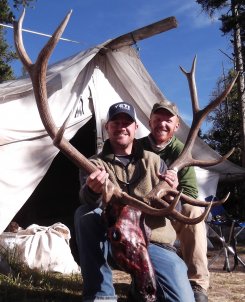 Our team is built on passionate outdoorsmen who know the lay of the land, the game and their habitats, and the sport of hunting. Our goal is to provide our clients with a hunt that we, ourselves, would enjoy and consider worthy. In fact, we love our profession so much and take pride in what we do, that we do enjoy each and every adventure.
Our reputation reveals that that's the case with our clients, as well. Our personalized service goes a long way when it comes to having your Montana whitetail hunting trip of a lifetime. We want you to feel at home in our lodges, and safe and confident on our terrain. If your goal is to tag a trophy elk with the help of a guide, we can make that happen.
IT'S NOT TOO LATE – BOOK YOUR 2012 TRIP TODAY!